My artwork is created using an original technique that synthesizes the artistry of design and photography. I work with natural forms to create surreal environments in which my photos are assembled into the spaces and patterns of my drawings. As these elements interact to create the highlights, shadows, and contours of the new image, they unfold to deeper discoveries within the composition. I create the works within Collections that are based on original poetry adding another layer to the narrative.
The imagery explores the evasive nature of our perceptions and the ever-shifting currents of our realities. The optimistic artwork celebrates the natural world, its fragility, and undeniable connection to our collective experience. I use recurring themes of water, light, and reflection to underscore the fleeting nature of our memories. The shimmering images and ephemeral changes of light are a powerful reminder that things are not always as they seem.
The works are meant to stir a sense of something familiar, perhaps a place you might not quite recall—but somehow, have been waiting to visit.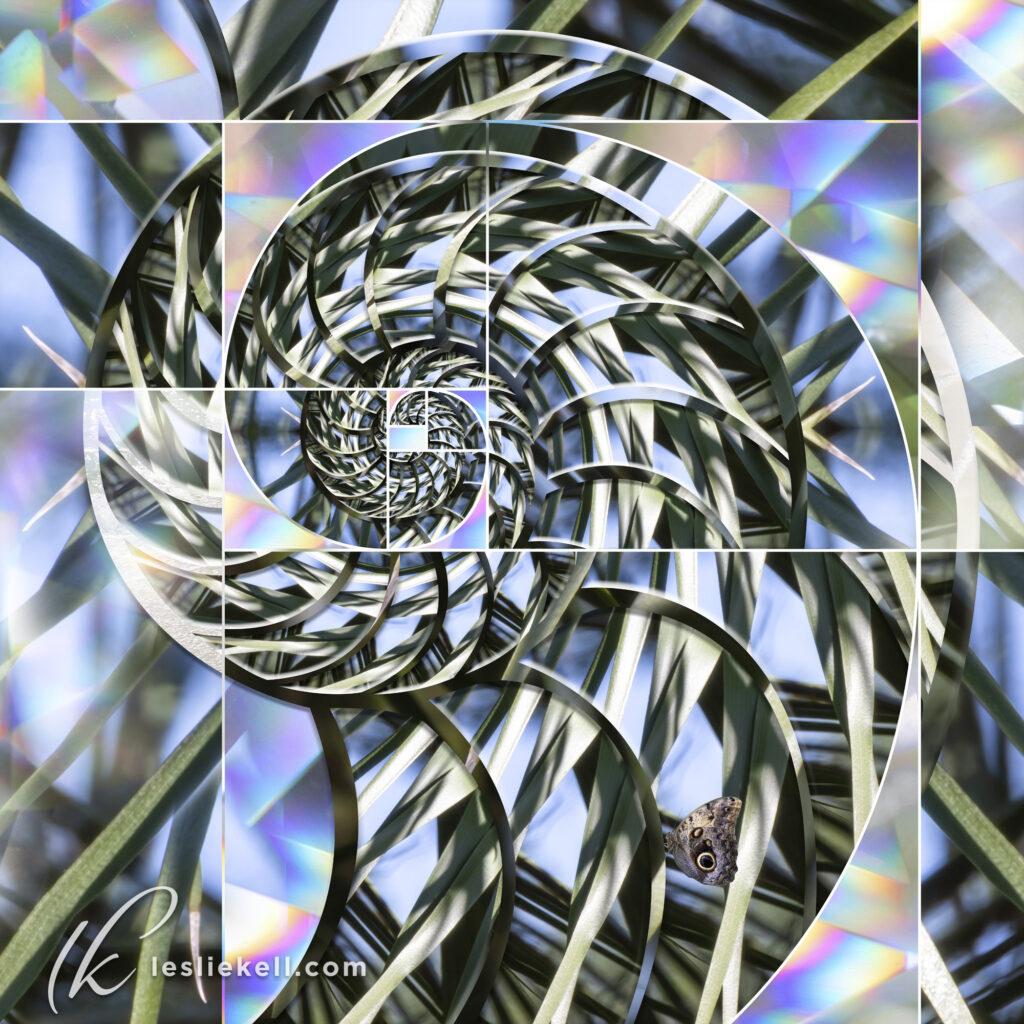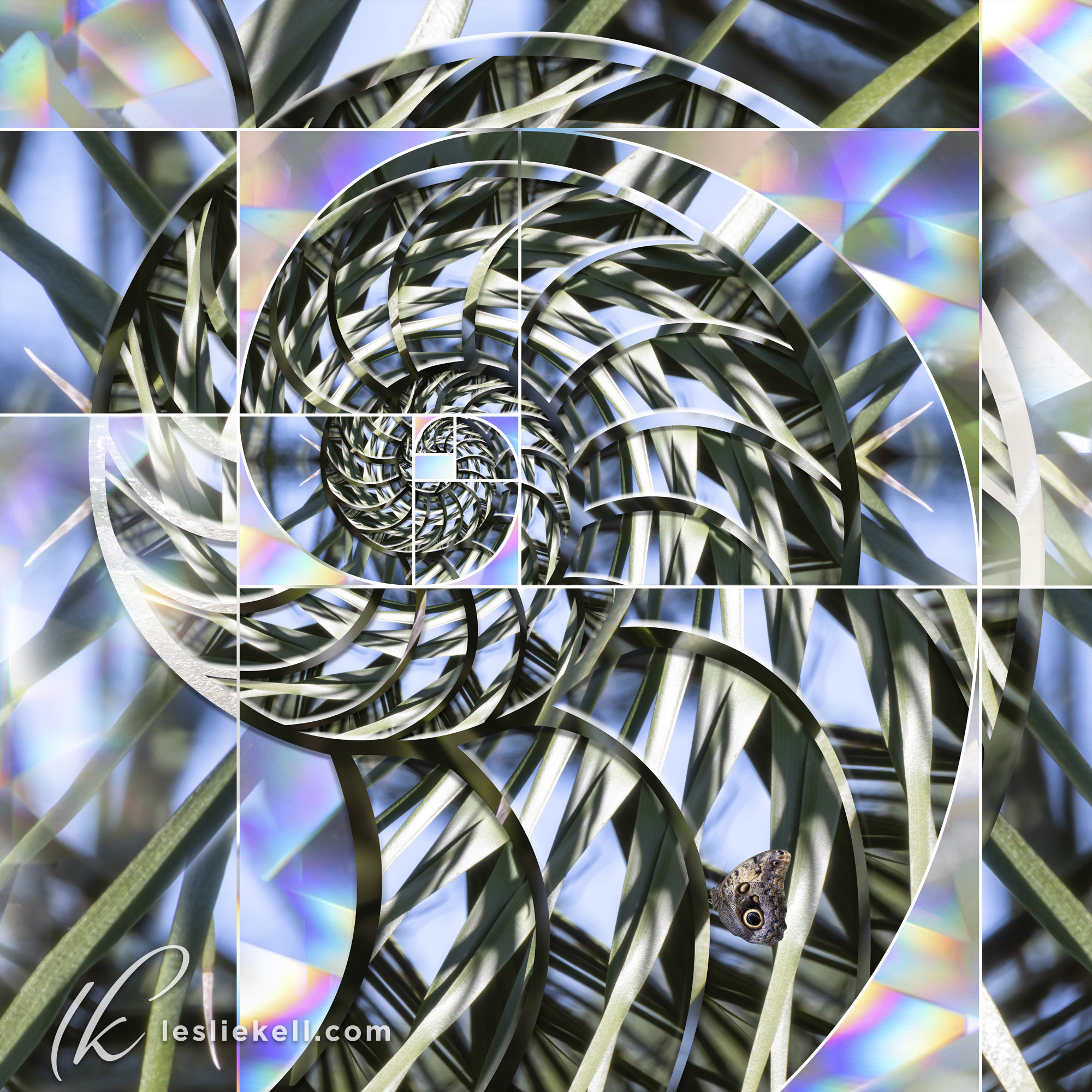 In this collection, I've paired sacred geometry as it manifests in the natural world with the symbols that represent the energy patterns that create and unify all things.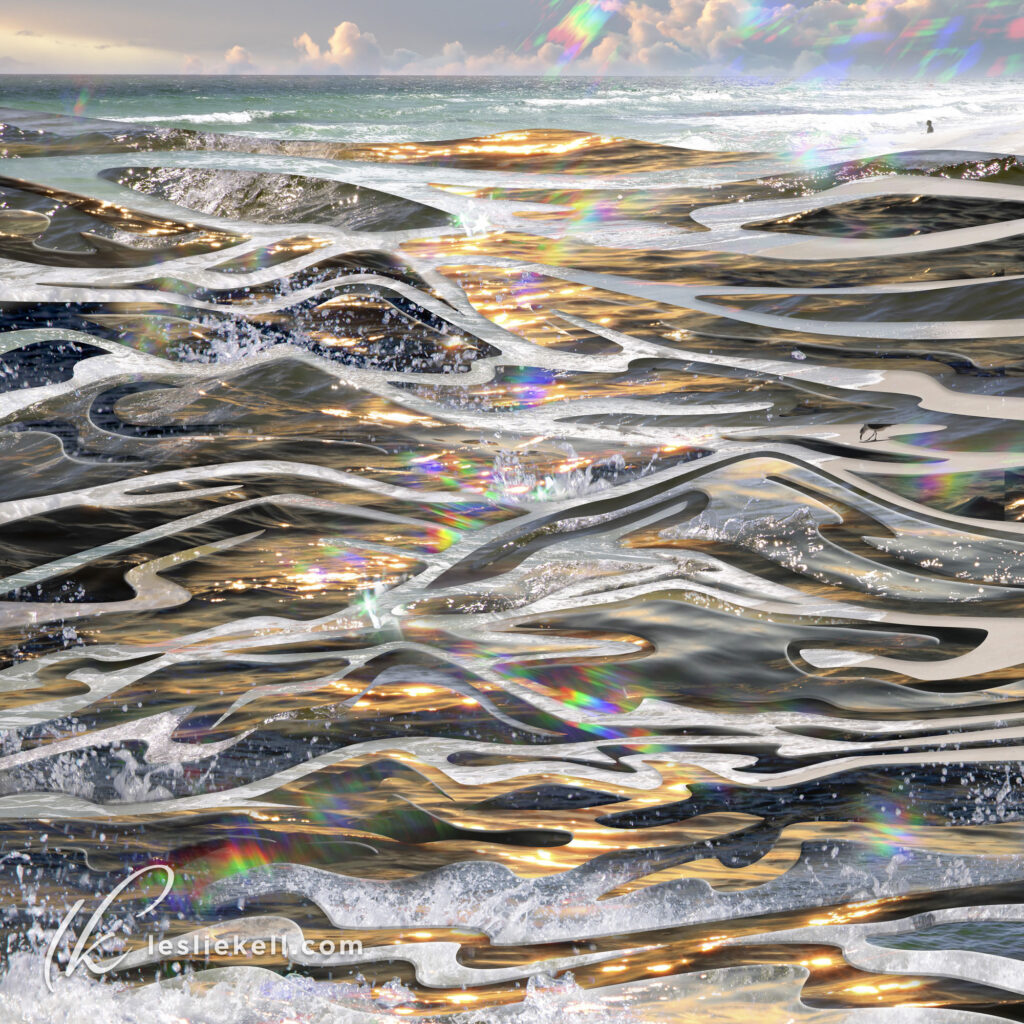 Vestige refers to something that is no longer present but its effects remain. The most enduring evidence in our existence is presence of water.
"A respite of simplicity snd gorgeous images that invites the viewers to go to that space in the moment of now. Each image is a perfect mediation."
"Comforting familiarity decided to go play with adventure, and met up with dreams along the way. Her photography and composition offer bright visions of the natural world!"
"Leslie, thank you so much for all the personal attention to make this so fantastic for me. I feel as if I have my own little gallery."
"Your profound depth is so beautiful; Delivered in earnest revelations and in such authentic composure. This work is a dance of grace and profound wisdom."
"It is creative and imaginative beyond measure. The composition is genius."
"All of your art takes us in places that are like time. It feels like memories, but of something we might not actually be able to remember. Quite astonishing!"
"Outstanding image with impact that is off the chart. The multiple mirror images boggle the mind."
….just looking at it brings my stress level down. All the ripples and water movement, colors, the reflections and the tree bark in the trees….so so gorgeous.
"All the possibilities of taking the easy way out, of rendering visuals that are less than complex and compelling and, basically, stunning: Those are possibilities that Kell has no truck with. ... This is work created by someone who gives a damn. This is work that defines and glorifies the word "painstaking."
"I was really blown away by the new artwork - I can really see you digging in and refining your style, which is a great blend of Photoshop wizardry, photography, and visual art. I daresay its unique, modern, and very relevant. For me, the juxtaposition of organic and digital speaks to my personality - my analog side is music, you know the digital side."
"As we were sitting at our kitchen counter our last few days in Austin we'd look up at 'Think this Through with Me', and sit in wonder. We're very much looking forward to experiencing that feeling of being transported...."
"Working with more than a dozen layers of digital images, Austin artist Leslie Kell, creates an intense feeling and a visual memory unlike any other art form with her highly expressive works."
"It was a pleasure to watch & work with Leslie in creating a future family heirloom of our daughter's wedding. She gave us several creative options along the way as well as being very attuned & open to our input and suggestions. Leslie beautifully & artfully captured the essence & magic of this day."
"Kell's working the sort of high-level graphic wizardry that's impressive in and of itself, even when it doesn't result in – as it so often does, in this exhibition – in exquisite beauty."
"The pieces are large, muscular and energize the space around them in a way that combines extravagance with playfulness."
"Storytelling is what your images make me think of because they are so layered and complex. Like windows into someone's life."